Sport and PE
Bakewell Methodist Junior School (BMJS) attends all the Primary Cluster School Sports events and activities. The teaching and playing of sports promotes the children learning teamwork, respect and good manners as well as them gaining experience in new environments and making new friends.
Rounders
Three teams from Bakewell Juniors traveled to Rowsley for the final cluster event of the year, the annual rounders tournament. Bakewell performed excellently, hitting some powerful shots and fielding effectively with great teamwork.
After a couple of victories each Bakewell A and B met in the final, with Bakewell A taking the trophy by the odd rounder.
Boccia, Beach Games, Sports Day and Kings Camp
On June 20th over 20 children from all year groups joined Stoney Middleton for the Cluster Boccia and Beach Games cluster event. Pete Edwards from Nottinghamshire Boccia showed all the children some seated Boccia, and they also enjoyed frisbee, archery, howler throwing and boules.
After a postonement on June 28th last Tuesday (July 5th) the weather played ball and everyone in the school joined in our annual sports day. The children were split into six Women's World Cup teams and first up were three personal challenges - football penalties, round the world tennis and gymnastic balance beam challenge - for which they earned stickers for excellent effort and determination. Following this we had scatterball tournament where the teams played each other in groups of three before a final decided the winners. The finale to the afternoon were sprint races and endurance races for each year groups which were fiercely contested but fun.
On July 8th Kings Camp visited school to run sports sessions for year 5/6 and year 3, engaging all the children in these two classes in a variety of fun activities.
Tennis and Diversity Week
On Tuesday May 14th all the children in school took part in a tennis afternoon, with pupils from year 3-6 joining together in teams to play a 'round the world' tournament. The players aimed to keep their shots consistently in court to earn points for their team. All teams showed great teamwork and improved their shots throughout the day. Later that week on the Thursday year 4 travelled to Baslow Sports Field where most of the children took part in a circuit of tennis activities, while Jack, Charlie, Erin and Lucy participated in a mini-tennis tournament. They played singles and doubles matches against Baslow and Longstone, and won both games to win the trophy!
This week, on May 20 and 21, year 4 and 5 learned about diversity in sport, finding out about the variety of cultures and backgrounds of the players of the England men's cricket team. They discussed what it means to be 'English' and the issues and positives of players of different ethnicities playing alongside each other, then researched the diversity of three other successful sports teams: Manchester City FC, England Netball and Team GB at Rio 2016.
Active Playground
Play Leaders and other pupils are doing an excellent job of getting active during playtimes and lunchtimes at the moment. Every day children excitedly ask: "what are the play leaders organising today?" and around 15-20 join in the games and challenges that groups of three year 6 pupils plan for Mondays, Tuesdays, Thursdays and Fridays. There are over 20 play leaders in total, and each group plan two lunchtimes of activities on a rota, one of games and one of challenges, every three weeks. This means that the other pupils have activities to join in with four lunchtimes a week.
That's not all though as children have been encouraged to use the playtime equipment and think of their own games and almost all do so regularly. The children in the pictures below show 20 children playing two five-a-side football matches, many children skipping, a few pairs playing tennis, as well as quite a few more enjoying the stilts.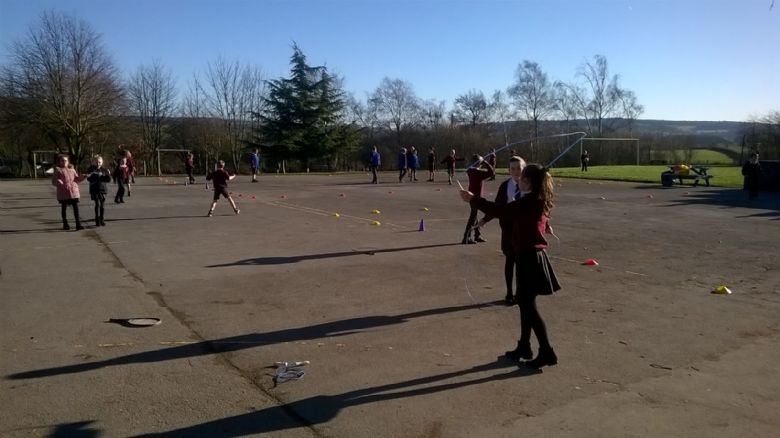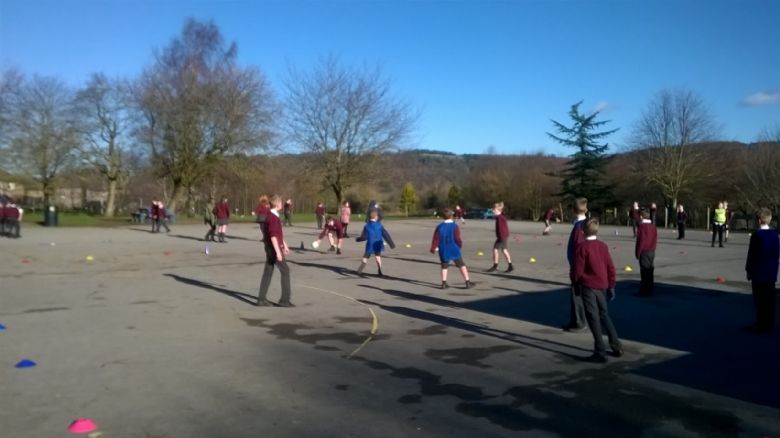 Athletics
Two teams travelled to Graves Sports Centre near Sheffield to compete in the cluster Sportshall Athletics competition. All year 6 children took part, competing against Longstone, Baslow, Curbar, Rowsley, Stanton and Youlgrave in a series of fun races and field events including a obstacle relay, standing triple jump and soft javelin.
After good teamwork from all the children, the Bakewell Bulls team finished third. Star performers were Megan Hanby in the speed bounce, and Jack Little and Lucy Worth who finished second in the 2 x 1 lap sprint.
Dodgeball Primary Cluster Tournament
Thursday 15th November saw 10 schools and 25 teams visit BMJS for the annual Year 3/4 cluster Dodgeball Tournament. Three teams entered from our Year 4 class and all played really well in their matches as well as enjoying a circuit of four coaching games.
Our A team held their nerve to win a tense final against Bishop Purseglove A in the school hall to win the overall tournament. Well done to them. They won their 5 matches and all the players contributed by dodging, throwing and catching well. There were some fairly excited celebrations at the end of the final but they all remembered their good manners and showed good sporting behaviour with the opposition.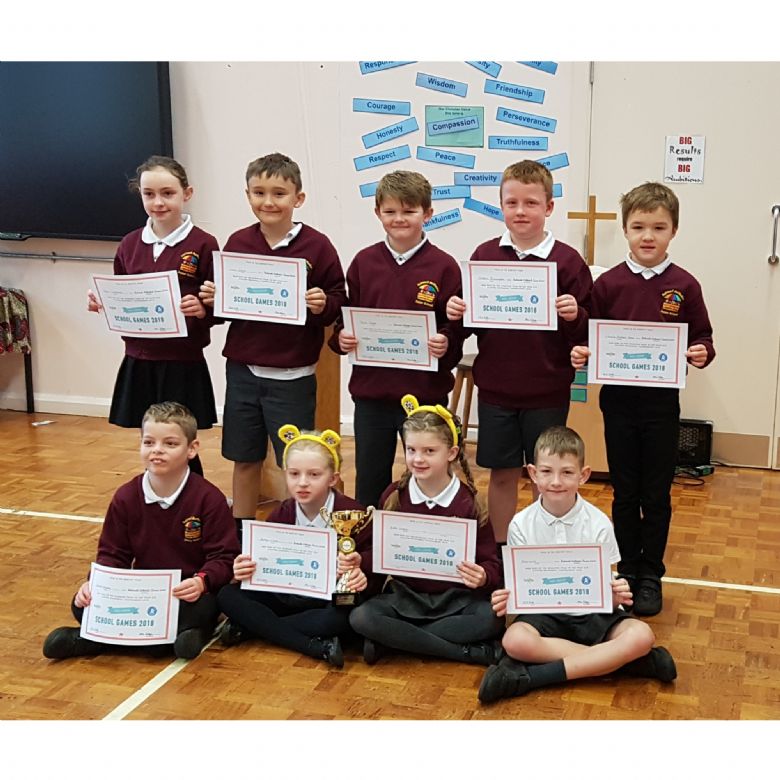 Tag Rugby
Every child at BMJS took part in a tag rugby tournament this week. Children from all year groups split into 12 teams for a tournament against their class mates on Tuesday with Angus, Tori, Daniel H and Jake doing a great job refereeing as each team worked together to play in six matches. On Thursday, one team of Year 5 and 6s travelled to Longstone to compete against the other schools in the primary cluster. The team won their first three matches comfortably before a narrow 2-1 defeat in the semi-finals saw them knocked out. The team encouraged each other all afternoon and showed an excellent sporting attitude.
Football Cluster Tournament
Three teams travelled to Tideswell for the annual cluster Year 5/6 football tournament on 27 September. On a glorious sunny day all children from Year 5/6 enjoyed five matches against teams from Baslow, Longstone and Bishop Purseglove. Unfortunately on this occasion none of the teams made it past the group stage but all teams played with respect and demonstrated excellent teamwork.
The weather was similarly sunny earlier in the week when all the children in the school split into 12 teams for an intramural football tournament lasting all afternoon. Four children from the sports organising committee - Alyssia Toombs, Jessica Heathcote, Jamie Dutch and Jackson Collins - helped to organise the teams, researched rules, planned fixtures and sacrificed taking part fo help referee. They did a thorough job that was appreciated by everyone who joined in.
Cross Country
Nearly 500 children visited our school on Thursday 4th October for the annual Bakewell Cluster Cross Country event and all pupils in all year groups took part in races and athletics activities including javelin, skipping, relays, hurdles and long jump and a running clinic led by European Championships bronze medal winner Becky Lyne.
There were some outstanding performances with Erin Colebrook and Harry Crilley winning their Year 3/4 races. A fantastic achievement for both children. Also Congratuulations to Poppy Tuckwood who came 4th and Jake Loughray who was 11th in their Year 5/6 races. All will represent school in the next round in Ashbourne.
It was great to see everyone taking part and trying their best. There was a fantastic atmosphere all afternoon at school.
Further information
Further information on our Sports Premium is available at Sports Premium.
More photos of our events are available in our Photo Gallery.