Sport and PE
Bakewell Methodist Junior School (BMJS) attends all the Primary Cluster School Sports events and activities. The teaching and playing of sports promotes the children learning teamwork, respect and good manners as well as them gaining experience in new environments and making new friends.
Tag Rugby and Netball Festival
On Thursday March 26th, children from all three classes enjoyed a sports event within their bubble. A team of sports coaches organised fun games, helped children improve their skills and arranged a tournament for each class. Eyam and Longshaw showcased what they learnt about netball during the Autumn term, while Hardwick had a go at tag rugby. The children also worked together brilliantly by taking part in team challenges, and their scores will be added to a league table of the all the cluster schools. Children from each bubble also achieved certificates for winning the tournament, as well as for demonstrating awesome honesty and super self-belief.
Athletics and Tag Rugby Festival
On Thursday November 26th, a team of five coaches visited school for our second sports afternoon of the Autumn term. Year 3/4 enjoyed a full afternoon of tag rugby games, and participated in a passing challenge where their results will be compared to the other 10 cluster schools from around the Bakewell area. Most years just after Christmas a small team from years 5 and 6 will compete against the rest of the cluster in the annual Sportshall Athletics event at Graves Sports Centre, Sheffield. This year Extra Time brought the event to us, as all the year 5/6 children took part in eight events (separately in their bubbles) including chest push, javelin, long jump, triple jump and four different relay races. Again, their times and distances were recorded and will be compared with the 10 other cluster schools to turn this event into a remote competition.
Bakewell Town
Two coaches representing Bakewell Town football club came in to offer three separate taster sessions to the girls in all three classes on Monday November 23rd. The sessions were experimental in offering 'girls only' sport, hoping that the girls would engage even more than usual given the opportunity to play football without the boys. There was real enthusiasm for the sessions across all three classes and Bakewell Town have teams across all ages so please get in touch with them if your child would like to join in outside of school time. The boys in each class also, kept active, enjoying their standard netball PE lesson.
Football Festival
We might not be able to meet with other schools for sports festivals at the moment, but that doesn't mean we can't have a sports afternoon all of our own. Extra Time visited school on October 8th and all children took part in a football festival - within their own bubbles of course! There were skills and drills, penalty shootouts, tournaments and even a dribbling challenge, where results will be added to cluster leaderboard so BMJS children will compete against the scores of 10 other cluster schools. Children from all three bubbles took part with bags of enthusiasm, and it was great to see some who might not normally be known as football lovers throwing themselves into it! Each bubble has certificate winners too, for winning the penalty shootout, showing terrific teamwork and determination and winning their bubble tournament.
Bee Netball
On March 12th 24 year five and six children headed over to Longstone for the annual netball tournament. We entered three teams and they all played five matches, with the A team winning four matches before reaching the final. Unfortunately they were defeated by a strong Longstone team but picked up the overall runners up certificates.
EIS Sheffield
All the year 5 and 6 children enjoyed a special day out at the English Institute for Sport in Sheffield on March 5th. Training base for international stars such as Jessica Ennis-Hill and Anthony Joshua during their careers, the venue hosts world class facilities. The children enjoyed a tour, taking a peak in the boxing gym while a bronze medal winner was training and seeing Anthony Joshua's gold exercise bike, and watching a wheelchair basketball training match. They also had chance to run round the indoor track, have a go at high jump, long jump into the sandpit and play basketball.
Dance Festival
Our year 3s visited The Arc Matlock for the cluster dance festival on Thursday February 27. They performed the bollywood dance they've created themselves and practised in PE to children from Curbar, Youlgrave, Rowsley, Stanton and Baslow schools, and watched the children from those schools perform their dances too. The children put in a super show, dancing with real rhythm and terrific timing and the judges commented very positively on their sense of space and excellent teamwork.
They then had the chance to learn some contemporary dance moves from the experienced teachers, and had a great time practising and performing these.
Sportshall Athletics
For the first event of 2020 BMJS entered three teams (more than any other school in the cluster) in the Sportshall Athletics Cluster Competition, held at the excellent Graves Health Centre in Sheffield. 23 children took part in various field events including Chest Push, Javelin, Vertical Jump, Triple Jump, Long Jump and speed bounce before the five races. There was a great atmosphere as over 100 children and adults cheered on the runners in an Over/Under Relay (where four runners ran, jumped over two sets of hurdles and under a hoop, an obstacle relay with agility ladders, speed bouncers and more hurdles, and 2x1, 2x2 and 4x1 straight running races.
All our teams loved competing and working together, and our 'pink bibs' team won one race overall and finished first in their heat once as well. The greens and yellows were also competitive in their heats and the greens won one heat. Once the results were calculated the pink team finished in 2nd place overall, not far behind an excellent Longstone team.
Dodgeball
The cluster Y3/4 tournament and festival was scheduled for yet another rain autumn day and so all activities were inside our school hall. This meant for a vibrant (some might say loud!) atmosphere as four teams from Bishop Pursglove, Longstone and Bakewell Juniors played off for the trophy. Each teams enjoyed group games and then further playoffs with the A team from BMJS winning their group and semi-final to face Bishop Pursglove A in the overall final. There was a tense finish as BP had two players left against just one from Bakewell for the final 30 seconds but no-one could strike again and so BMJS finished runners up. All children also enjoyed lots of coaching games including dodgeball chase and gauntlet dodgeball.
Tag Rugby
On the Thursday before half term three teams of year 5 and 6 pupils visited Longstone School to take part in the annual tag rugby tournament and festival. A few children took part in some fun coaching games while the majority played several group matches against teams from Baslow, Longstone and Bishop Pursglove. They even took the opportunity to learn the Mauri tribal dance made famous by the All Blacks in between matches. One of our teams won their group and went on to play Bishop Pursglove in the semi-finals. After a narrow victory they faced Longstone in the final, but lost by the odd try in seven to receive the runners up certificates for the second event in a row.
Football - Rural Partnership Finals
The football team that finished 2nd in the cluster tournament in September travelled to Anthony Gell in Wirksworth for the Rural Partnership Finals in October. They came second in their group then played some enjoyable matches against the other teams that finished 2nd in the other two groups.
Cross Country
School hosted its first cluster event of the year, the annual cross country attracting over 400 children from 11 schools, on September 26th. Bakewell Juniors entered 40 children in the races and all children participated in the fun athletics events that included howler and javelin throwing, relays, long jump, hurdles, skipping and more. There were some excellent individual performances with Erin winning the Year 5/6 girls race and Poppy finishing 4th, Pasco coming runner up in the Year 5/6 boys race, and Harry winning the Y3/4 race for the second year in succession. There were some superb team efforts too, with the boys winning the Year 3/4 title, and the Year 5/6 girls finishing second by just two points.
Football
Three teams from Bakewell Juniors enjoyed a sunny afternoon of football at Bishop Pursglove School on September 19th. All three teams played four group matches against teams from Baslow, Longstone and Bishop Pursglove, and the A team won their group on goal difference to qualify for the semi-finals. They then beat Longstone B 1-0 in the semis to progress to the final. In a hard-fought match Longstone A won the trophy with a 1-0 victory leaving our Bakewell team to take home the runners-up certificates.
Rounders
Three teams from Bakewell Juniors traveled to Rowsley for the final cluster event of the year, the annual rounders tournament. Bakewell performed excellently, hitting some powerful shots and fielding effectively with great teamwork.
After a couple of victories each Bakewell A and B met in the final, with Bakewell A taking the trophy by the odd rounder.
Boccia, Beach Games, Sports Day and Kings Camp
On June 20th over 20 children from all year groups joined Stoney Middleton for the Cluster Boccia and Beach Games cluster event. Pete Edwards from Nottinghamshire Boccia showed all the children some seated Boccia, and they also enjoyed frisbee, archery, howler throwing and boules.
After a postonement on June 28th last Tuesday (July 5th) the weather played ball and everyone in the school joined in our annual sports day. The children were split into six Women's World Cup teams and first up were three personal challenges - football penalties, round the world tennis and gymnastic balance beam challenge - for which they earned stickers for excellent effort and determination. Following this we had scatterball tournament where the teams played each other in groups of three before a final decided the winners. The finale to the afternoon were sprint races and endurance races for each year groups which were fiercely contested but fun.
On July 8th Kings Camp visited school to run sports sessions for year 5/6 and year 3, engaging all the children in these two classes in a variety of fun activities.
Tennis and Diversity Week
On Tuesday May 14th all the children in school took part in a tennis afternoon, with pupils from year 3-6 joining together in teams to play a 'round the world' tournament. The players aimed to keep their shots consistently in court to earn points for their team. All teams showed great teamwork and improved their shots throughout the day. Later that week on the Thursday year 4 travelled to Baslow Sports Field where most of the children took part in a circuit of tennis activities, while Jack, Charlie, Erin and Lucy participated in a mini-tennis tournament. They played singles and doubles matches against Baslow and Longstone, and won both games to win the trophy!
This week, on May 20 and 21, year 4 and 5 learned about diversity in sport, finding out about the variety of cultures and backgrounds of the players of the England men's cricket team. They discussed what it means to be 'English' and the issues and positives of players of different ethnicities playing alongside each other, then researched the diversity of three other successful sports teams: Manchester City FC, England Netball and Team GB at Rio 2016.
Active Playground
Play Leaders and other pupils are doing an excellent job of getting active during playtimes and lunchtimes at the moment. Every day children excitedly ask: "what are the play leaders organising today?" and around 15-20 join in the games and challenges that groups of three year 6 pupils plan for Mondays, Tuesdays, Thursdays and Fridays. There are over 20 play leaders in total, and each group plan two lunchtimes of activities on a rota, one of games and one of challenges, every three weeks. This means that the other pupils have activities to join in with four lunchtimes a week.
That's not all though as children have been encouraged to use the playtime equipment and think of their own games and almost all do so regularly. The children in the pictures below show 20 children playing two five-a-side football matches, many children skipping, a few pairs playing tennis, as well as quite a few more enjoying the stilts.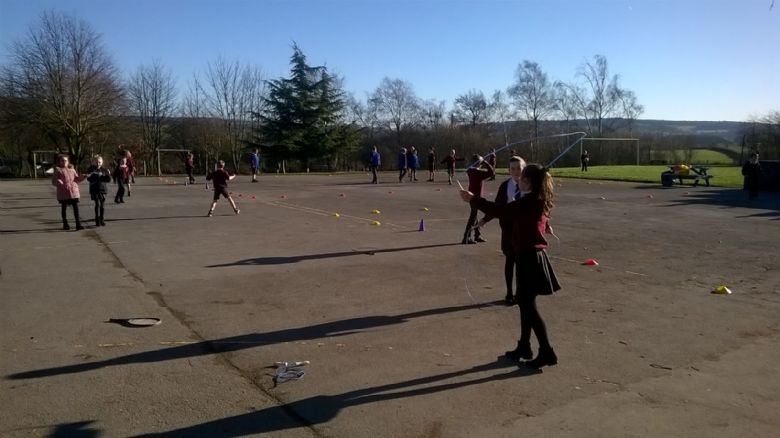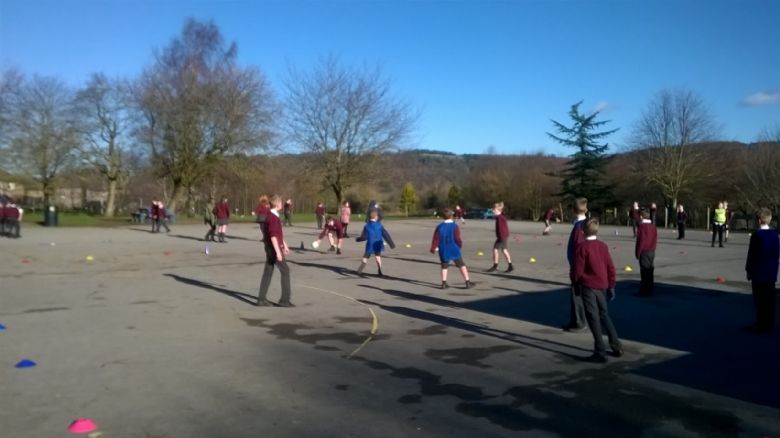 Athletics
Two teams travelled to Graves Sports Centre near Sheffield to compete in the cluster Sportshall Athletics competition. All year 6 children took part, competing against Longstone, Baslow, Curbar, Rowsley, Stanton and Youlgrave in a series of fun races and field events including a obstacle relay, standing triple jump and soft javelin.
After good teamwork from all the children, the Bakewell Bulls team finished third. Star performers were Megan Hanby in the speed bounce, and Jack Little and Lucy Worth who finished second in the 2 x 1 lap sprint.
Dodgeball Primary Cluster Tournament
Thursday 15th November saw 10 schools and 25 teams visit BMJS for the annual Year 3/4 cluster Dodgeball Tournament. Three teams entered from our Year 4 class and all played really well in their matches as well as enjoying a circuit of four coaching games.
Our A team held their nerve to win a tense final against Bishop Purseglove A in the school hall to win the overall tournament. Well done to them. They won their 5 matches and all the players contributed by dodging, throwing and catching well. There were some fairly excited celebrations at the end of the final but they all remembered their good manners and showed good sporting behaviour with the opposition.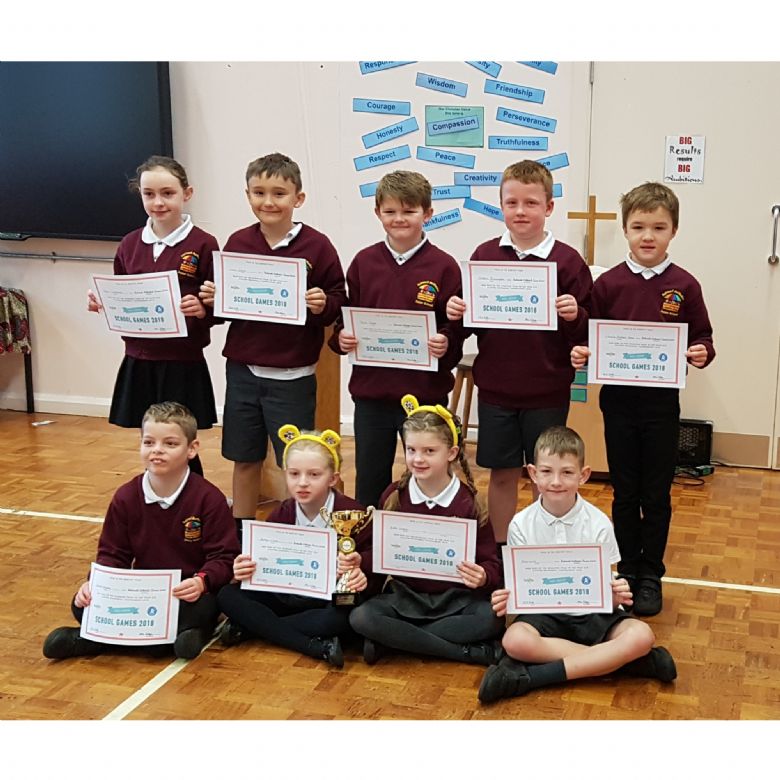 Tag Rugby
Every child at BMJS took part in a tag rugby tournament this week. Children from all year groups split into 12 teams for a tournament against their class mates on Tuesday with Angus, Tori, Daniel H and Jake doing a great job refereeing as each team worked together to play in six matches. On Thursday, one team of Year 5 and 6s travelled to Longstone to compete against the other schools in the primary cluster. The team won their first three matches comfortably before a narrow 2-1 defeat in the semi-finals saw them knocked out. The team encouraged each other all afternoon and showed an excellent sporting attitude.
Football Cluster Tournament
Three teams travelled to Tideswell for the annual cluster Year 5/6 football tournament on 27 September. On a glorious sunny day all children from Year 5/6 enjoyed five matches against teams from Baslow, Longstone and Bishop Purseglove. Unfortunately on this occasion none of the teams made it past the group stage but all teams played with respect and demonstrated excellent teamwork.
The weather was similarly sunny earlier in the week when all the children in the school split into 12 teams for an intramural football tournament lasting all afternoon. Four children from the sports organising committee - Alyssia Toombs, Jessica Heathcote, Jamie Dutch and Jackson Collins - helped to organise the teams, researched rules, planned fixtures and sacrificed taking part fo help referee. They did a thorough job that was appreciated by everyone who joined in.
Cross Country
Nearly 500 children visited our school on Thursday 4th October for the annual Bakewell Cluster Cross Country event and all pupils in all year groups took part in races and athletics activities including javelin, skipping, relays, hurdles and long jump and a running clinic led by European Championships bronze medal winner Becky Lyne.
There were some outstanding performances with Erin Colebrook and Harry Crilley winning their Year 3/4 races. A fantastic achievement for both children. Also Congratuulations to Poppy Tuckwood who came 4th and Jake Loughray who was 11th in their Year 5/6 races. All will represent school in the next round in Ashbourne.
It was great to see everyone taking part and trying their best. There was a fantastic atmosphere all afternoon at school.
Further information
Further information on our Sports Premium is available at Sports Premium.
More photos of our events are available in our Photo Gallery.