Bakewell Methodist Junior School supports Fairtrade Bakewell.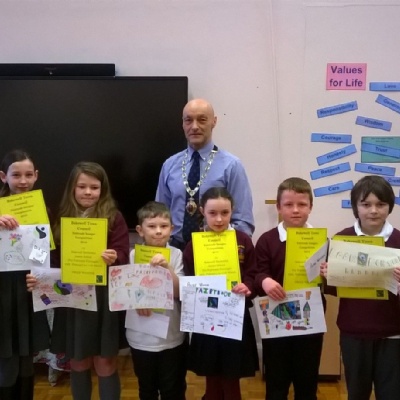 During Fairtrade fortnight, which ended on Sunday 11th March, pupils at Bakewell Methodist Junior School took part in a competition to illustrate what Fairtrade meant to them through their art work.
The competition was supported by Bakewell Town Council who provided certificates and prizes of Co-op gift vouchers for the winners.
Bakewell Mayor, Cllr Steve Edwards, said " Well done, what a positive response from the pupils at the Junior School. They all took part in the competition after learning about how important Fairtrade is to the farmers and producers around the world. Co-op vouchers were chosen as prizes as it is the town's biggest provider of Fairtrade products."
The Bakewell Fairtrade outlets list is shown on the Town Council website and this in turn gives support to Derbyshire Dales District Councils bid to become a Fairtrade District.